I have heard that people think that lingerie is similar to a packing of a present, the more beautiful it is the more tempting the woman looks wearing it. The more that the men is interested to unwrap his gift. Not to mention that those intrigue lingerie bring curiosity, even though the viewers know what's under it but still wants to explore what's underneath to fulfill desire.
According to statistics about 90% of men get excited seeing their woman wearing lingerie. No doubt that lingerie is an important item in the bedroom. Especially in Valentine's Day, lingerie is the HOTTEST item whether it is from women to men, or from men to women.
Apart from styles, material, print, silhouette and details, color is another basic elements that dominant a fashion item. Same as lingerie, there are different colors that are particular popular within the lingerie world. Color and palette are very valuable in a subconscious mind.
Here I focus on the most popular colors in the secret world of  lingerie. I hope this information will help women in choosing their own lingerie, or will help men to choose the right piece of lingerie for their love ones.
RED

:
Most men confess they like lingerie of red or burgundy colors. Red is a color of passion and maybe that i swhy it is the basic color for Valentine's Day! Woman wearing red is perceived as confident, passionate and sexually skillful. Such women know how to please herself and her partner.
Some fun facts about red lingerie:
In Poland, the schoolgirls believe red lingerie can help them pass exams well, that's why lingerie stores in Poland offer a huge variety of red sets on the eve of state exams.
In China, red lingerie is very important to bring good luck in New Year's Day, for both men and women.
So you can tell that red lingerie is believed to bring good fortune to many cultures.
Black: Black is very popular. Statistics states that women with big sexual ambitions likes to wear black lingerie. Maybe it is a little bit exaggerated, but there is no doubt that black lingerie is very sexy and yet romantic. It is more so if the set is transparent and all it showcase all her feminine curves.
White: Some men like white lingerie, since the era of "Adam and Eve", white is already symbolized as naive and innocence. With the mass media influence nowadays, like Victoria's Secret, the angel's wings provoke fantasy on women with white lingerie.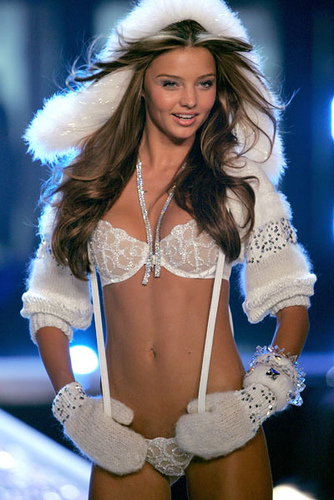 Not to mention that white is still the main color for bridal lingerie. With a hint of baby blue is still the traditional believe of bringing good fortune to the newly wed couples.
Pink

: Pink is the top color choice beyond black, white and red colors. Pink lingerie is viewed as  sweet and cute. It is very popular among young girls.