Jean Paul Gaultier, the enfant terrible of the fashion world.
He is the creator of the man-skirt – the sexy kilts!

Le Male Kilt Jean Paul Gaultier for men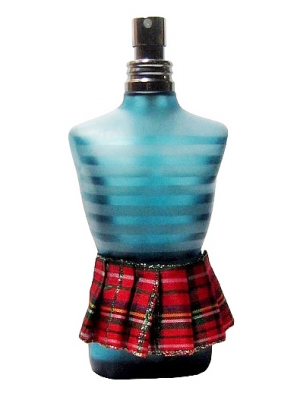 Can you imagine this? Gaultier creative process and his passion for brassiere has been demonstrated since he was a child, this teddy bear has added a hand sewn pointy bra on top.
No wonder when he grew up, he dressed Madonna in now-iconic-cone-shaped bra for her 1990 Blond Ambitiontour.
He wrapped Milla Jovovich in white bandages in "The FifthElement."
He put the plus-sized BethDitto of Gossip on his runway.
He turned the classic nautical stripes into chic sensation.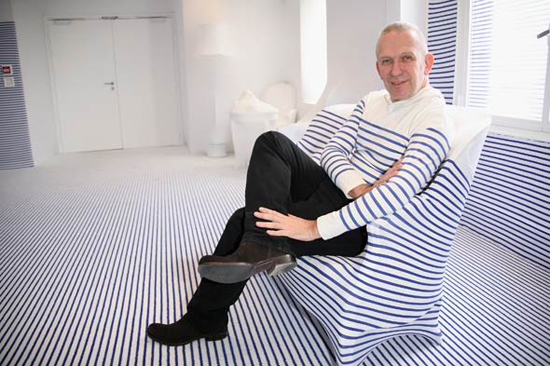 Yes, I have to admit that I had talked about Jean Paul Gaultier, fashion legend, many times already. He is one of fashion's most influential and innovative figures, French haute couture designer. I love him and that's not possible that I can stop talking about him. Especially when it comes to his major global exhibition of  his 35th anniversaryof the design. "The Fashion World of Jean Paul Gaultier: From the Sidewalk to the Catwalk" is a worldwide tour. Beginning at Montreal Museum of Fine Arts, to the Dallas Museum of Art, San Francisco's de Young Museum, Kunsthal Rotterdam, and Madrid's FundaciónMapfre.
I will definitely be there at the San Francisco show. It is a MUST SEE for 2012! (Same as the important show that I mentioned before - Alexander McQueen's "Savage Beauty" at New York in 2011).
T

his is a ground breaking exhibition. It is the collaboration between Jean Paul Gaultier and many experts from film, dance performances.  His

great humanity was showcasing

by his haute couture world, with the

unique fusion of different ethnicity, culture, gender, sexuality, identity and the definition of beauty. The exhibition is an open‐minded vision of society, a crazy, sensitive, funny, sassy world.
Not only the Gaultier exhibition showcases approximately 140 ensembles from 1970 to 2010 including both the best haute couture and ready-to-wear pieces (including Madonna's famous cone bra), it comes also with his sketches, photographs, videoclips of stars, such as Lady Gaga and Kylie Minogue performing in Gaultier's attire, and animated mannequins that talk and sing,  . All from the designer's 35 year career in fashion, from the 70′s to now. Make sure that you bring something to carry the 424-page exhibition catalog home, it includes interviews with Dita Von Teese, Catherine Deneuve, Pierre Cardin, and the notoriously press-shy Martin Margiela, who began his career at Gaultier.
"The Fashion World of Jean Paul Gaultier" is divide his work into six different sections. It was completed through the mixture of his inspirations from sartorial tradition and high art, pop culture and religious iconography, street fashion and tattoos.
"The Odyssey of Jean Paul Gaultier" displays his affinity for sailor stripes, mermaids, and virgins.
"The Boudoir" showcases his daring silky and sexy takes on women's lingerie, including corset dresses and the cone-shaped bras;
"Skin Deep" explores his constant use of skin as inspiration, including a piece that involves a trompe-l'œil ofmuscles onto a garment.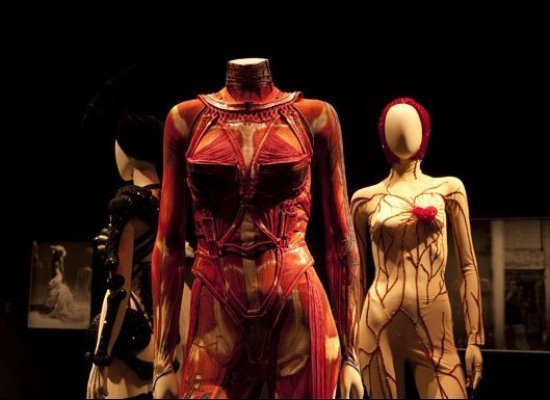 "Punk Can Can" delves into his love for London punk andParisian chic.
"Urban Jungle" looks into how different cultures influenced thedesigner's work, causing him to create a new aesthetic from traditional ethnic clothing.
"Metropolis" dives into his futuristic creations inspired by different music styles, including new wave and house.
Don't miss the chance to see this great exhibition at de Young Museum in San Francisco this March. It will last for 5 months.